Ecco 4 grandi classici che sto leggendo, per fortuna, in questo periodo di "pausa forzata"



1- Il richiamo della foresta di Jack London
Questo è senza dubbio uno dei libri più famosi scritti dall'autore di "Zanna Bianca".
Pubblicato nel 1904, parla della vita del cane Buck, che da una fattoria californiana viene venduto e spedito al Nord. Viene impiegato come cane da slitta da un esperto allevatore. Buck sente crescere il richiamo della foresta e i suoi istinti dimenticati.


1- The Call of the Wild by Jack London

"Deep in the forest a call was sounding, and as often as he heard this call, mysteriously thrilling and luring, he felt compelled to turn his back upon the fire and the beaten earth around it, and to plunge into the forest, and on and on, he knew not where or why; nor did he wonder where or why, the call sounding imperiously, deep in the forest."

BUY IT HERE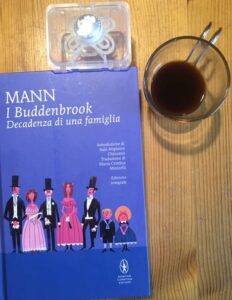 2- I Buddenbrook: decadenza di una famiglia di Thomas Mann

Un libro da rileggere ogni tanto. Il primo del più famoso dei fratelli Mann. Thomas Mann racconta la storia di una famiglia tedesca dell'Ottocento che si avvia a una tragica decadenza, con molti elementi autobiografici. Il libro che pone e basi per il successo dell'autore della "Montagna incantata", attraverso la descrizione della classe borghese, dei suoi difetti anacronistici e della sua crisi.


2- Buddenbrooks: The Decline of a Family by Thomas Mann

"Often, the outward and visible material signs and symbols of happiness and success only show themselves when the process of decline has already set in. The outer manifestations take time – like the light of that star up there, which may in reality be already quenched, when it looks to us to be shining its brightest."

BUY IT HERE




3- L'isola di Arturo di Elsa Morante

Che meraviglioso romanzo di formazione che pone Procida, capitale della cultura 2022, come sottofondo della storia di un ragazzino! Un racconto dolce del passaggio dall'adolescenza alla maturità, attraverso piccoli e grandi drammi, la scoperta della gelosia, dell'amore, della solitudine, di segreti inconfessabili riguardo le figure famigliari. Sua madre è morta di parto, suo padre è sempre via. Cresce solo e selvaggio. Questo ragazzo, dal nome di stella, ci insegna e ci accompagna, grazie alla bravura inimitabile di Elsa Morante, moglie di un altrettanto indimenticato Alberto Moravia. Con lui sogniamo di pirati ed eroi classici, guerrieri e filosofi.
L'isola di Procida è una felice reclusione per Arturo ma anche un luogo da lasciare per crescere finalmente, e dimenticare i dolori provati suo malgrado. Una lettura da fare assolutamente, che scivolerà via nonostante la lunghezza del libro.
3- The island of Arturo, by Elsa Morante

What a beautiful Bildungsroman with the Capital of Culture 2022, Procida, as a background!
The sweet story of the passage from childhood to adulthood of Arturo, a living star-boy. With his big and little dramas, his fantasies, his tales of knights, pirates and classic heroes. But also his painful discoveries. Arturo's mother is dead, his father away. He grew up lonely and wild. This is a great novel by a great narrator Elsa Morante, Alberto Moravia's wife. Procida remains the living paradise to take refuge in, that Arturo wants to abandon while growing up.
BUY IT HERE





4 – Il leopardo delle nevi di Peter Matthiessen

Ambientato nel 1973, tratto da una storia vera. L'autore si mette sulle tracce del mitico leopardo delle nevi dell'Asia del nord, con lo zoologo George Schaller. Un racconto affascinante, pubblicato nel 1978. Consigliatissimo agli appassionati di alpinismo e trekking in Himalaya, e a chi sogna di andare in Nepal.
Il leopardo delle nevi vinse in due categorie, nel 1979 e nel 1980 il premio National Book Award della non fiction. Esploratore e attivista, fondatore della famosa rivista di naturalismo "The Paris Review", Matthiessen è scomparso nell'aprile del 2014.


4- The Snow Leopard by Peter Matthiessen

In 1973 Peter Matthiessen went to Nepal to study the Himalayan blue sheep and, possibly, to glimpse the rare and beautiful snow leopard, with the zoologist George Schaller. This book is the right reading for all the Himalaya lovers.
The Snow Leopard won the National Book Award of non-fiction, in two categories, in 1979 and 1980.
A co-founder of The Paris Review and a world-renowned naturalist, explorer and activist, Matthiessen died in April 2014.

BUY IT HERE


leggi anche i miei consigli – read all my adviced books
10 libri di viaggio da leggere in questo periodo